---
Video Conversions to DVD and/or Digital File
We can covert your existing videos to DVD format and/or digital file for computer use.
We can convert standard full size VHS tapes, VHS-C compact vhs tapes, mini-dv, 8mm tapes. We may also be able to convert other type tapes such as Hi-8, reel to reel, etc… if you still have the equipment and cables in working order. Contact us for details.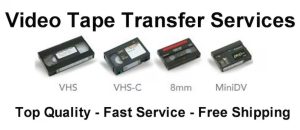 All conversions done in-house by Anaphora. Unlike many competitors we do not ship or deliver your tapes to any other company.
We all remember our first video camera, how exciting and innovative it was to be able to capture memories and special events forever. But time passes, memories fade and technology changes. Don't let technology steal away those joyous moments, unlock precious memories with our simple VHS to DVD or Digital File Conversion of your cherished home movies and family videos.
Get started with our basic package for only $25 (includes one DVD, $5 for each additional DVD copy).
3 Easy Steps to get started:
Give us your video tape. Drop off or mail your VHS tapes to Anaphora.
We convert your tape and transfer it to DVD. Once we receive your tape, we will convert the video into a high quality digital format and burn it onto a DVD. *See note below regarding VHS tapes with over 2 hours of content.
You receive your Disc(s) or Digital File(s). You can pick up your original tape and the final converted DVD, or we can mail it to you.*See note below regarding optional ways to receive your digital file(s).
---
From basic home movies to pro gear, we can accommodate your needs.  General pricing is outlined below for converting your existing video to DVD format:
Pricing for Basic Video Conversions:
VHS or VHS-C to DVD or Digital Files
Additional DVD copies of each original are $5 each.
If you need more than 5 additional copies of each original converted VHS to DVD please see our DVD Duplication Prices.
If your project requires additional work then additional charges may apply. Click here for DVD Authoring and Menu Creation.
BOTH Digital Files & DVDs: If you would like both disc(s) and digital file(s) we offer discounted rate of only $10 additional for digital file(s) if done at same time as DVD.
DIGITAL FILES: We can supply your digital file(s) to you via cloud service or USB thumb drive (your choice). Cloud service is free for low quantity conversions. For multiple tape conversions we recommend purchasing a USB thumb drive from us for a nominal fee. Contact us for details.
We can work with custom projects. Please contact us if you need additional pricing.
A standard DVD-5 holds up to two hours of content. This is no problem for VHS tapes that were recorded in standard mode. However, VHS tapes can hold up to four, six or even eight hours of video if they were recorded in LP or EP/ELP mode. If you believe your VHS tape might hold more than 2 hours of content, we can span it over multiple discs with your authorization that this will incur additional charges. Your DVD will not lose quality when transferred from VHS but please note that the final quality will depend on the condition of your original tape. If your original is in good condition you will get a good quality DVD, if however your tape has been exposed to light, excess heat, or over played in dirty VCRs then the quality will be just like the original warts and all.
*Please note that Copy Protected tapes using Macrovision can only be duplicated for personal use and require additional charges. If you're not sure if your tape is copy protected, we will notify you prior to conversion.
**Also note that the above pricing is for a standard North American Region NTSC VHS to DVD format. If your VHS is in European PAL format or you need it converted to either PAL DVD or NTSC DVD format please call us for pricing.